Ernesto Ruiz-Rodriguez, MD, FACC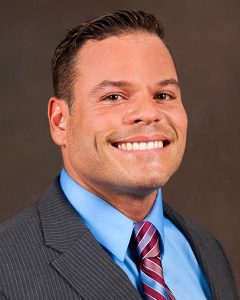 Dr. Ruiz-Rodriguez graduated from the University of Puerto Rico in 2001 with a Bachelor of Science degree in Natural Sciences. He then enlisted in the United States Army and graduated from the Infantry One Station Unit Training and Airborne School in Fort Benning, GA and the Special Operations Preparatory Course in Fort Bragg, NC. He then proceeded to earn a medical degree from the Universidad Central del Caribe School of Medicine in Puerto Rico where he graduated Magna Cum Laude in 2008. Dr. Ruiz-Rodriguez completed his residency in Internal Medicine at the Cleveland Clinic Foundation in Cleveland, OH and his fellowship in Cardiovascular Disease at the University of Kentucky in Lexington, KY. He then completed his Interventional Cardiology and Endovascular Peripheral Interventions fellowship at the University of Arkansas for Medical Sciences. Dr. Ruiz-Rodriguez then graduated from the Structural Heart Disease and Advanced Interventional Cardiology Fellowship at the University of Minnesota in Minneapolis, MN where he completed a year of dedicated training in advanced transcatheter valvular therapies including transcatheter aortic valve replacement (TAVR), percutaneous mitral valve edge-to-edge repair (MitraClip), as well as additional training in chronic total occlusion (CTO) interventions and advanced resuscitation therapies including percutaneous cardiopulmonary support with extracorporeal membrane oxygenation (ECMO). His clinical background also includes Level 2 training in Cardiovascular Computed Tomography (Cardiac CT), Echocardiography and Nuclear Medicine.
Dr. Ruiz-Rodriguez is a member of the Society for Cardiac Angiography and Interventions, American College of Cardiology, Society of Cardiovascular Computed Tomography, and the American Medical Association. He is also a member of the United States Parachute Association (USPA) and a scuba divemaster with the Professional Association of Diving Instructors (PADI). His clinical interests include complex percutaneous coronary interventions via the radial and femoral approach, peripheral endovascular interventions, and structural heart disease with special interest in advanced transcatheter valve therapies including TAVR.
Structural Heart Disease and Advanced Interventional Cardiology Fellowship
University of Minnesota, Minneapolis, MN
Interventional Cardiology and Peripheral Interventions Fellowship
University of Arkansas for Medical Sciences, Little Rock, AR
Cardiovascular Disease Fellowship
University of Kentucky, Lexington, KY
Internal Medicine Residency
Cleveland Clinic Foundation, Cleveland, OH
Medical Degree (M.D.)
Universidad Central del Caribe School of Medicine, Puerto Rico
Undergraduate Education
University of Puerto Rico, Rio Piedras (Bachelor of Science)
Board Certifications
American Board of Internal Medicine (Cardiovascular Disease and Interventional Cardiology)
Professional Societies
Society for Cardiac Angiography and Interventions (SCAI)
American College of Cardiology (ACC)
American Medical Association (AMA)
Society of Cardiovascular Computed Tomography (SCCT)
Alpha Omega Alpha Honor Medical Society