G. Stephen Greer, MD, FACC, FHRS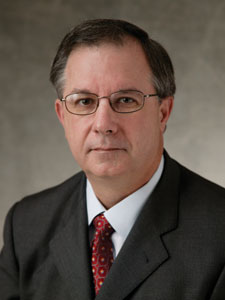 My greatest satisfaction in practicing medicine is the long-term relationships I have with patients. We share more than just a doctor-patient appointment. I find we have common backgrounds, common interests, and common dreams and goals.
Dr. Greer pioneered a number of "Arkansas firsts" for implants of devices used to treat rhythm disorders and catheter ablation, a technique to alter or destroy abnormal electrical circuits in the heart. Since 1987, Dr. Greer has been very active in clinical research. Many of the implantable devices used for heart rhythm management today came as a direct result of these efforts.
After earning a bachelor of science in Zoology at the University of Arkansas, Dr. Greer earned his doctorate in medicine from University of Arkansas for Medical Sciences. He later earned a Master's degree in medical management at Carnegie Mellon University and a Master's degree in theological studies at Southern Baptist Theological Seminary.
He and his wife, Pamela, have two sons and five grandchildren. The Greer family enjoys spending time together through involvement with their church, playing golf, snow skiing and hunting.
Fellowship
Duke University Medical Center
Residency
University of Arkansas for Medical Sciences
Medical Degree
University of Arkansas for Medical Sciences
Education
BS, University of Arkansas
MS, Carnegie Mellon University
MATS, Southern Baptist Theological Seminary
Board Certification
American Board of Internal Medicine, Cardiovascular Disease, Electrophysiology
Certifying Commission for Medical Management
Professional Distinctions
Fellow, American College of Cardiology
Fellow, American College of Physicians
Fellow, American Heart Association
Fellow, Heart Rhythm Society
Member, American Autonomic Society
Member, American College of Physician Executives
Member, Medical Group Management Association
Member, Society of Cardiovascular Computed Tomography
Member, American Society of Echocardiography