Thomas D. Conley, MD, FACC, FSCAI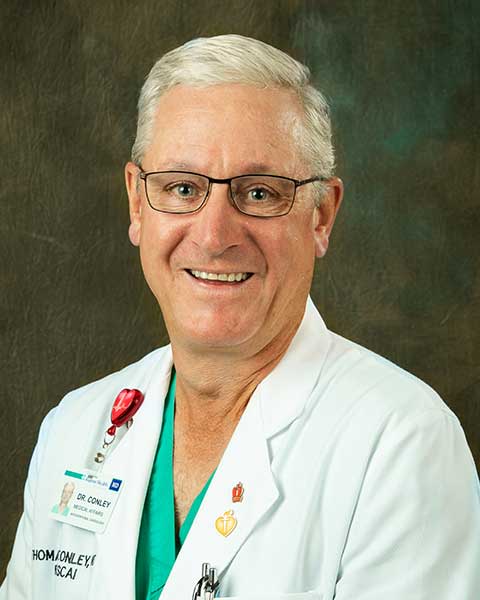 I love the dynamic nature of cardiology because the heart is an organ that's always in motion, Performing angioplasty or inserting a stent to treat a heart attack and fix a potentially lethal problem is very gratifying.
Dr. Conley received a Bachelor of Arts with distinction in Biology from Hendrix College. After receiving his undergraduate degree, he entered the University of Arkansas for Medical Sciences where he earned his MD in 1987. He completed an internship and residency in Internal Medicine, and served one additional year as Chief Resident in Internal Medicine at UAMS. Dr. Conley completed fellowships in Cardiovascular Disease and Interventional Cardiology at the University of Oklahoma Health Science Center.
Dr. Conley was the first cardiologist in Arkansas to perform coronary stenting from the wrist. This procedure allows patients to walk and stand almost immediately after receiving stents. He has a focused interest in intracoronary ultrasound and intracoronary Fractional Flow Reserve.
Dr. Conley is a Fellow of the American College of Cardiology and the Society for Cardiac Angiography and Intervention. He is certified by the American Board of Internal Medicine in Cardiovascular Disease and Interventional Cardiology.
He and his wife, Lori, have three children. In his free time, he enjoys hunting, golf, and playing saxophone.
Fellowship
University of Oklahoma Health Sciences Center
Residency
University of Arkansas for Medical Sciences
Medical Degree
University of Arkansas for Medical Sciences
Education
BS, Hendrix College, 1983
MD, University of Arkansas for Medical Sciences, 1987
Board Certification
American Board of Internal Medicine (Cardiovascular Disease and Interventional Cardiology)
Professional Distinctions
Formerly Assistant Professor and Director Cardiac Catheterization Laboratory, John C. McClellan Veterans Hospital
Formerly Medical Director, Cardiac Catheterization Laboratory, Baptist Health Center, North Little Rock
Past President, North Little Rock Division, American Heart Association