Gary J. Collins, MD, FACC, FACP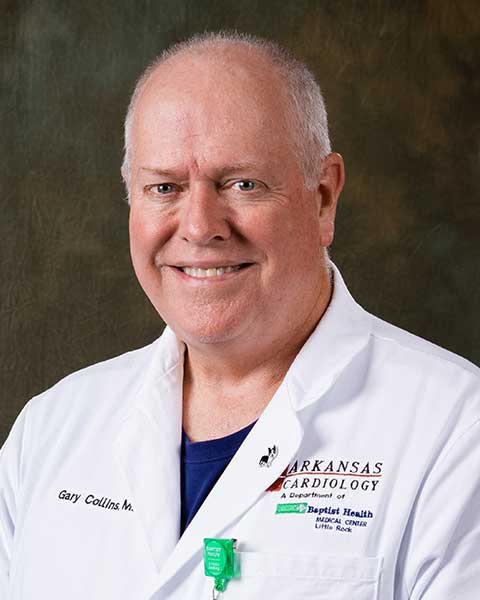 One aspect that especially intrigues me is that cardiologists do a tremendous amount of research compared to other specialties, and it can greatly impact patient care. We have a great team here. The nurses appreciate the well being of our patients, and I believe the rewards are much greater in the specialty of cardiology.
Dr. Collins joined Arkansas Cardiology in 1996 as an interventional cardiologist after serving as Chief of Cardiopulmonary Services and director of the Interventional Cardiac Care Catheterization Laboratory at Wright-Patterson US Air Force Medical Center.
He earned a bachelor's and master's degrees at Rensselaer Polytechnic Institute and his M.D. at the Uniformed Services University of the Health Sciences in Bethesda, Maryland. He did an internal medicine residency at Wright- Patterson Medical Center and his fellowship in interventional cardiology at Duke University.
Dr. Collins is a Diplomat of the National Board of Medical Examiners and the American Board of Internal Medicine and is a Fellow of the American College of Cardiology and the American College of Physicians.
He and his wife, Leslie, have two daughters. Time away from the office will find Dr. Collins fishing for walleye and trout, on the golf course or traveling with the family. He also has a keen interest in wine making.
Fellowship
Duke University Medical Center
Residency
Wright-Patterson USAF Medical Center
Medical Degree
Uniformed Services, University of Health Science
Education
BS, Rensselaer Polytechnic Institute, 1977
MS, Rensselaer Polytechnic Institute, 1978
MD, Uniformed Services University of the Health Sciences, 1982
Board Certification
American Board of Internal Medicine (Cardiovascular Disease and Interventional Cardiology)
Professional Distinctions
Diplomat, National Board of Medical Examiners
Diplomat, American Board of Internal Medicine
Fellow, American College of Cardiology
Fellow, American College of Physicians
Member, American College of Physicians
Member, Society of Air Force Physicians