Dwight Chrisman, MD, FACC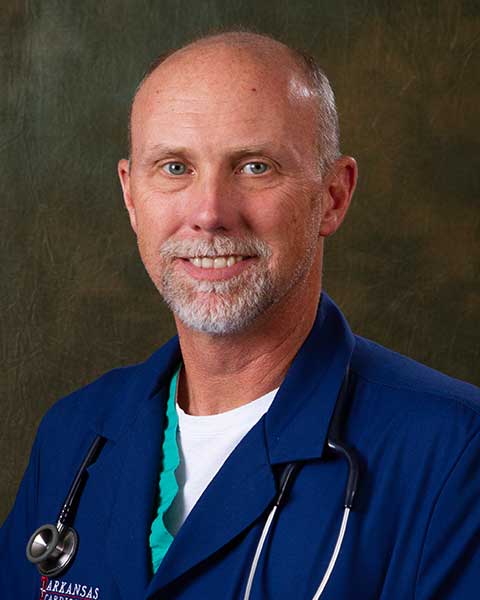 Educating a patient in a manner that results in positive cardiovascular health changes is rewarding. There are many minimally invasive options available to high-risk patients.
After completing work on his bachelor's degree at the University of Arkansas at Little Rock, Dr. Chrisman attended UA for Medical Sciences and earned his MD degree in 1997. Following his internships and residencies in internal medicine at UAMS, he went on to complete a fellowship at the University of Texas Health Sciences Center in San Antonio.
He holds board certification in internal medicine, cardiovascular disease, interventional cardiology, and nuclear cardiology. Dr. Chrisman's specialty interests in cardiology include high-risk artery intervention, carotid artery stenting, renal artery and lower extremity intervention, and acute heart attack intervention and recovery.
Dr. Chrisman was the first cardiologist in Arkansas to provide carotid artery stenting and is a member of the Baptist Medical Center steering committee to provide faster treatment for acute heart attack patients.
He is a Fellow of the American College of Cardiology and holds memberships in the American Board of Internal Medicine, American Society of Nuclear Cardiology and American Society of Cardiovascular Tomography.
Dr. Chrisman and his wife have two daughters. In his leisure time, he enjoys basketball, Razorback football, golf, auto racing and water sports.
Fellowship
University of Texas Health Sciences Center
Residency
University of Arkansas for Medical Sciences
Medical Degree
University of Arkansas for Medical Sciences
Education
BS, University of Arkansas, 1993
MD, University of Arkansas for Medical Sciences, 1997
Board Certification
American Board of Internal Medicine, Cardiovascular Disease, Interventional Cardiology
Certification Board of Nuclear Cardiology
Professional Distinctions
Fellow, American College of Cardiology
Member, American Board of Internal Medicine
Member, American Society of Nuclear Cardiology
Member, American Society of Cardiovascular Tomography